I am really impressed with the quality and gameplay of C&C Medieval. I found that the new terrain elements added a good variety to the scenarios in C&C Medieval. I think they would be useful in Battlelore to add more variety for more scenarios. Battlelore has a more fantasy feel so using fantasy-style clip-art for the tiles seemed like a better choice than just copying the tiles from C&C Medieval. Gabriel Pickard's art for Roll 20 has been fantastic over the years and in my opinion makes the perfect fit.
The Battlelore Tilesystem Map Editor has been updated to include these tiles.
Download:
City Walls & Gates
I feel these were long needed in Battlelore. I can imagine now all the siege scenarios made possible by these tiles. Included are 3 City Gates and 9 Walls tiles and 2 Rules Reference cards.
Broken Ground
The broken ground tiles in C&C Medieval were very generic and all identical, so I decided to get a little creative with the designs. Included are 3 rocky area tiles, 2 ruins tiles and a Terrain Reference card. The ruins could easily repurposed as objective tiles.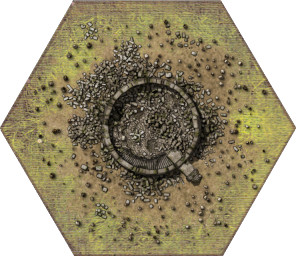 Camp Tiles
These provide an additional obstacle to unit movement and a good defensive position for units. Included are 5 camp tiles (2 copies of the 1st tile) and a Terrain Reference card.
Art Credits
Clip-Art used for the add-on tiles (excluding the base tile itself) is from Gabriel Pickard's (deviantart) Vile Tiles Roll 20 collection.